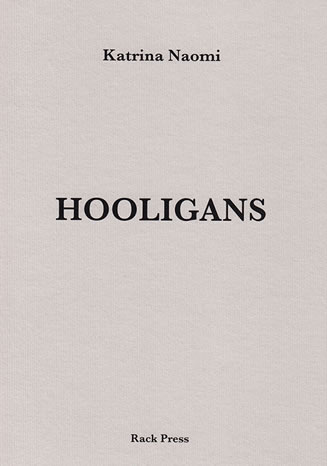 12 pages
Published: February 4, 2010
Publisher: Rack Press
ISBN-10: 0992765471
ISBN-13: 978-0992765477
Katrina Naomi wrote Hooligans after learning that her great-grandmother was involved with the Women's Social and Political Union – one of the more militant Suffragette movements.Hooligans considers the nature of women's protests for the vote, ranging from violent demonstrations and window breaking, to imprisonment and force feeding.
Hooligans has just been reprinted after 9 months.
'Go home and darn the old man's socks.'
Popular anti-Suffragette insult
You ran away to north London,
never spoke of home, fled as a child
from that gap on the form
where your father would have been;
a mother you rarely mentioned. You ran
to a life of needles and silks, martyred
your eyes for those who could pay,
embroidering a cape for the Coronation;
never a dress for yourself.
When you straightened up,
out of the poor light, you thrust a pin
through the crown of your best straw hat,
worked among those with a larger vision.
I can't know what my Great-Grandfather said
of your views as you patched his shirts,
kissed him off across the Channel;
or where you were when the telegram messenger
came running, just days before you won the vote.
First published in Mslexia
'A satisfying amalgam of personal and political…The challenge for the poet writing about violence…is to ensure appropriate poetic transformation of the material…Most of Naomi's poems meet this challenge triumphantly, particularly the opening work which makes a potently original analogy between a Suffragette and a chimney…The poem packs its punch with great economy ending on a deft pun on 'house' conjuring the Commons as well as home.'
'Hooligans…reflects upon the nature of women's and occasionally men's protests for the right to vote and stand in an election. The poems here, many incendiary in tone, range from visions of violent demonstrations and window breaking, to imprisonment and force-feeding.'