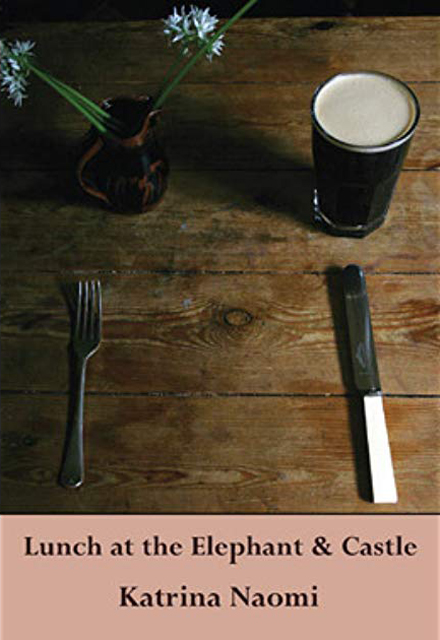 Lunch at the Elephant & Castle
32 pages
Published: October 1, 2008
Publisher: Templar Poetry
ISBN-10: 1906285241
ISBN-13: 978-1906285241
Katrina's pamphlet 'Lunch at the Elephant & Castle' won the 2008 Templar Poetry Competition and was published in October 2008.
"Katrina Naomi is not afraid to take risks and knows how to 'tell it slant'. So her restlessly varied and wide-ranging poems – whether touching, shocking, entertaining, compassionate or sinister – have a vital freshness."
Michael Laskey
Lunch at the Elephant & Castle
I hadn't thought of you, hadn't thought of
you walking into The George, but you did.
And through the smoke and people standing up,
you saw me lying on the carpet with
Andy, was that his name? I'm not too sure.
I do remember how much I'd fancied
him. He was blond, while you're dark, blue-eyed while
yours are grey. I don't think you've forgotten
have you? I don't have much of an excuse,
except it was lunchtime and I hadn't
eaten, but I had drunk nine bottles of
Becks, so lying at the back of The George
with (let's call him) Andy seemed OK.
Perhaps it was, until I was aware
of your leopard print shoes next to my head,
and the way you said nothing. I'm grateful
for that. You put out your hand, helped me to
my feet and walked me back to Lambeth North.
It was then that I knew I wanted you.
'It's rare that you read a collection of poems and actually want to meet the poet. But Katrina Naomi's personality comes through so strikingly in Lunch at the Elephant & Castle where she recollects instances from a life that we can all relate to. These recollections are frequently convincing, generous and infused with a tenderness that is the very cornerstone of her poetry.'
'Katrina Naomi…has the chatty, confiding tone of a friend taking you aside for a natter. There's a great deal of the gossip's guilty pleasure to be had picking over the matter of the poems…but the poems go deeper than confessional anecdote. By assuming alternate identities, Naomi opens up a wider and more objective world.'
'This is a vivid and vibrant collecion, Naomi's voice is distinct and definite. For a first collection this is assured and confident.'