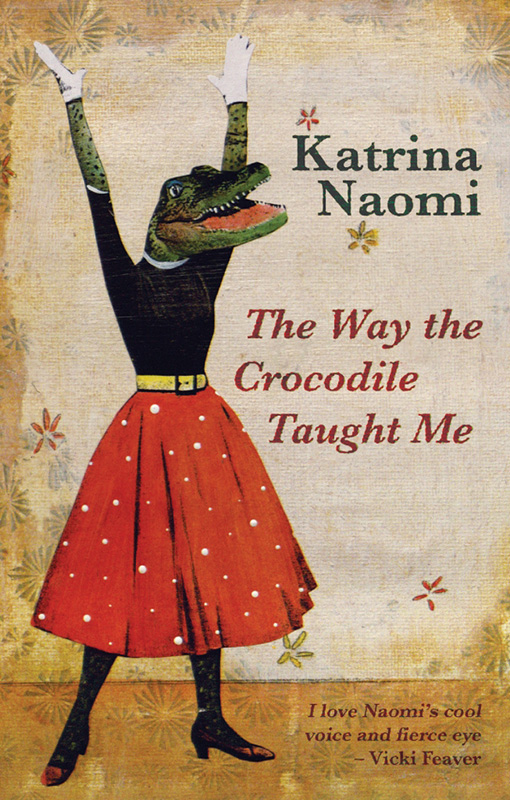 The Way the Crocodile Taught Me
Paperback: 72 pages
Published: April 7, 2016
Publisher: Seren
ISBN-10: 1781723311
ISBN-13: 978-1781723319
Katrina Naomi's The Way the Crocodile Taught Me is the eagerly-awaited second collection by this lively and popular poet.
With warmth, flair and a certain ferocious wit, Naomi tears into her subject matter: a childhood fraught with dislocation and violence but also redeemed by more tender memories of a sister and a kindly, although at times comically obtuse, grandmother.
In the first half we meet the family which also includes: an often glamorous mother, a truly scary step-father and the sort of relatives where one can expect fistfights to erupt at family weddings. The second half of the book is informed by the tragi-comic events of the first and includes: a bleak hotel, an attempted rape and a description of the sadistic relish with which the Kray twins dispatched their victims. The Way the Crocodile Taught Me will delight people who know Naomi's work and undoubtedly win new fans for her courageous and unabashedly entertaining poems.
Of this collection, Vicki Feaver says;
'I love Katrina Naomi's cool voice and fierce eye'.
The Way the Crocodile Taught Me
I swooned at the large god of him, sunning.
A tooth for every day of my life.
He performed his run along the bank,
as males do. I brought my boat closer.
He took to following, at a distance.
I wasn't taken in, knew his four-chambered heart
pumped love out and in, in and out,
knew his tongue had few good uses,
knew all about his grin. Yet whoever said he was cold-
blooded has never truly known this beast.
He brought out the prehistoric in me. I dived.
We swam, belly to belly, to where the Niles meet,
tussled as we thrashed among the weeds. After, I lay
the length of him, a limestone lilo, studs patterning
my skin. He smiled at me, often. Taught me all he knew.
Years later, when a man tried to drag me under,
I practised the force my lover had held back –
levered my small jaws open to their furthest extent,
splashed them down on the human's arm.
My attacker still carries the mark of my smile.
(First published as part of the project,
'The Argument: Art V Poetry',
exhibited at London's Poetry Café and
at StAnza Poetry Festival in Scotland)
'Foyles has chosen 'The Way the Crocodile Taught Me' as one of its #FoylesFive, describing the collection as 'overwhelmingly beautiful and acutely painful'.'
.I love 'The Way the Crocodile Taught Me' for Katrina Naomi's cool voice and fierce eye. For her humour and compassion. For her cast of colourful characters: from a cross-dressing step-father to the Kray twins and a dubious lama. For the journey she takes us – from a childhood a lesser poet would have miled for its sob-stuff to a pass high in the Annapurna mountains where, taking the lama's blessing for her dead mother, she allows her emotion to pour out in a passage all the more moving because of her previous reticence..
.These are fiercely and triumphantly female poems…written with brave truth. It's a vivid collection of elegy and celebration..
.Brutal, honest and moving' and 'full of quirky humour'.